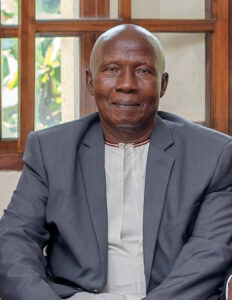 From Reverend Andrew P. Spyrow, Archdiocese of San Francisco Office of the Vicar for Clergy:
Ssalongo Francis Drake Mugerwa, the father of Fr. Paul Zirimenya, died on January 23, 2023 after a 3-month battle with cancer. He was born to Kezekia Zirimenya Lukwago and Tolofisa Nalubowa on September 08, 1940 in Kyasonko, Lwengo District, Republic of Uganda. He married Robinah Babirye Galinda on September 04, 1971 at Saint Paul's Cathedral, Namirembe, Uganda. They celebrated their 51st wedding anniversary on September 04, 2022.
Ssalongo Mugerwa was an accountant by profession and he worked for Uganda Electricity Board, Kako Secondary School, Busiro Coffee Limited, and Tropical Africa Bank.
He volunteered his time as treasurer for Saint Paul's Cathedral, Kako and Saint John's Church, Kanyanya, in Uganda. Ssalongo Mugerwa's genuine passion was love for the Church, his family, relatives, and friends. He will forever be in the hearts of those who have known him and experienced his wisdom, kindness, generosity, and love.
Ssalongo Mugerwa is survived by his wife, Robinah; his children, Edward (Susan), Lady Canon Alice (Daniel), Fr. Paul, Timothy (Maureen), Irene (Lammeck), Samuel (Diana), Faith (Geoffrey), Patricia (Romel), Martin (Pamela) and 18 grandchildren.
Ssalongo Mugerwa's funeral was celebrated on Wednesday, January 25th at Saint Paul's Cathedral, Namirembe; burial was on Thursday, January 26th.
Fr. Paul was able to travel and arrive in Uganda in time for his father's burial.
Please join Archbishop Cordileone, Bishop Wang, Bishop Justice, Fr. Howell, Fr. Summerhays, Fr. Martin and me in praying for the repose of the soul of Ssalongo Mugerwa and his family.
Your cards of condolence may be sent to:
Rev. Paul Zirimenya
(In Residence)
Saint Gabriel's Church
2535 40th Avenue
San Francisco, CA 94116